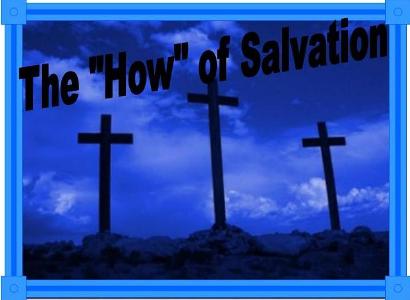 Scriptures reveal to us clearly the way to salvation. We know from Romans 10:17 that faith in Christ and the gospel message comes as one hears the message. You can hear the message by
clicking here
. But not all who hear believe.
We know that God is the One who gives us the faith to believe and receive Christ. "Jesus said in John 6:44,
No one can come to me unless the Father who sent me draws him."
In John 3:3, Jesus answers Nicodemus' question, "How can one be born again?" "Jesus answered and said to him,
"Truly, truly, I say to you, unless one is born again he cannot see the kingdom of God." So we must be in the Kingdom to see the King of the kingdom.
So, one must first hear the message of the gospel of Christ. Then the question becomes, do you recognize that you are a sinner in need of a Savior. Is that you today? If so, it is God who has opened your heart to see the truth. When you have a desire and are ready to receive Christ as your Savior and you are ready to allow Him to guide your life as the Lord of your life then the Scripture declares that God has moved on your heart and you have been "born again" into the kingdom of God for only those in the Kingdom can see (John 3:3). Is that you today? Do you desire Christ as Savior and Lord?
So, if you have heard the gospel message and it has opened your heart convicting you of your sin and need for a Savior and if you are being drawn to Christ, God is or has moved on you! If you accept the payment for your sins as made by Christ as a free gift to you, confessing Jesus as Lord while believing God has raised Him from the dead and you are willing to release the control of your life to Christ, you can know you are saved. You accept His payment by just telling Him so from your heart. You receive Him as Savior and Lord by telling Him so from your heart according to Romans 10:9-10. Here we are instructed
"if you confess with your mouth Jesus as Lord, and believe in your heart that God raised Him from the dead, you will be saved; for with the heart a person believes, resulting in righteousness, and with the mouth he confesses, resulting in salvation." Your salvation is a gift of God. It is all grace.
Ephesians 2:7-9,
"That in the ages to come he might show the exceeding riches of his grace in his kindness toward us through Christ Jesus. For by grace are ye saved through faith; and that not of yourselves: it is the gift of God: Not of works, lest any man should boast."
You see, your faith is not even "of yourself", it is from God.Therefore, it is not the prayer itself that saves you, as not one work is required on your part for it is God who saves. But the prayer is an outward expression and acceptance of what God is doing in your heart. It strengthens your commitment to a new life lived in Christ.
We believe it is God's desire that you tell somebody of your new declaration and commitment because Jesus states in Matthew 10:32, "Whosoever therefore shall
confess
me
before
men, him will I
confess
also
before
my
Father
which is in heaven." Of course, if you responded publicly to a public invitation to Christ and it was from your heart as explained above, then you are saved and you have confessed Christ's lordship to others. This confession is a great way to begin your new life.
As one born again into the Kingdom of God as described above, today, right now, you are a citizen of the Kingdom of God where Jesus rules and reigns. You are now a new creation in Christ (2 Corinthians 5:17). Although you may not feel so different, your desire to live a life pleasing to God will be present as God has changed your heart. You may still stumble and struggle with sin, but you will desire to conquer it with the help of the Holy Spirit. Your spirit is now alive unto God but your mind and habits will be continually renewed from now until the day when you meet Christ face to face. But be of good cheer, Christ will be with you always to help you conquer. It is all by His grace. Grace for salvation and grace to live a life that glorifies God.